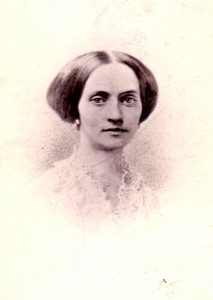 Elizabeth Seabury Tredwell, the eldest child of Eliza and Seabury Tredwell, was born on July 23, 1821, and died on January 7, 1880, at the age of 59. According to her death record, she died of "exhaustion and suffocation from chronic bronchitis."
She married Effingham H. Nichols, a Yale alumnus (Class of 1841) and successful attorney, on April 19, 1845, at St. Bartholomew's Church, then located around the corner from 4th Street at Great Jones Street and Lafayette Place. St. Bart's was built in 1835 to accommodate the influx of new residents to the fashionable Bond Street neighborhood.
Following their marriage, the newlyweds lived with her parents in the 4th Street house, as was the custom. Their only child, Elizabeth Howard Nichols, known as Lillie, was born in 1854. (It was Lillie Nichols who inherited the house after her aunt Gertrude Tredwell died in 1933.)
In 1859, the family moved to Brooklyn, then to Fifth Avenue and 34th Street, across from William B. Astor, Jr. and John Jacob Astor, III.
According to Elizabeth's obituary, published in The New York Times on January 11, 1880, "Relatives and friends of the family are respectfully invited to attend the funeral from her late residence, No. 339 5th av. on Monday, Jan. 12, at 10 o'clock A.M. Internment at Woodlaw Cemetery, by special train from the Grand Central Depot immediately after the service."