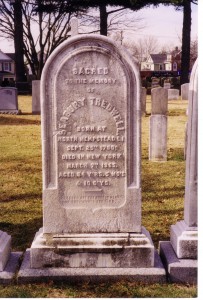 Seabury Tredwell died 150 years ago, on March 7, 1865. He was 85 years old and suffered from Bright's Disease, an affliction of the kidneys. He was survived by his wife, Eliza, their eight children, and five grandchildren.
Custom decreed that the body be placed on view for visitors if at all possible. Seabury Tredwell's corpse may have been displayed on his bed, a sofa, or in a coffin. His funeral service took place in the double parlor on Saturday, March 11, and was attended by a wide circle of family, friends, and acquaintances. The coffin was then taken to the New York City Marble Cemetery, nearby on Second Street between First and Second Avenues, either by horse-drawn hearse or pall bearers. His body was temporarily interred there, before being ultimately laid to rest in the Tredwell family plot, at Christ's Church in Hempstead, Long Island. His gravestone, at left, stands alongside his wife, Eliza's, and five of their children, and bears the epigraph "Sacred to the Memory."
According to The New York Post, "Among the deaths noticed in our columns today is that of one of our oldest and most respected merchants, Seabury Tredwell. He was a gentleman of the old school, dignified and accomplished in his manners and high-minded and honorable in all his transactions."
Come pay your last respects as we celebrate the life (and commemorate the death) of "one of New York's oldest and most respected merchants." The exhibition is open March 5 to March 30.