Books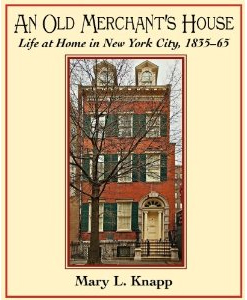 An Old Merchant's House: Life at Home in New York City, 1835-1865
by Mary Knapp
All proceeds from the sale of the book benefit the Merchant's House Museum.
"Mary L. Knapp's An Old Merchant's House: Life at Home in New York City 1835-1865 is a great history of Seabury Tredwell's East Fourth Street home and the best book we've read on domestic life in nineteenth-century New York."
"Well researched, Mary Knapp's book on the day-to-day life in Antebellum New York is a juicy read! In my opinion, the best book
out there on nineteenth century life among the upper class."
"I cannot recommend this book highly enough for lovers of New York history the nineteenth century, and good writing!"
"Living with the Tredwells through the pages of Ms. Knapp's book is a delight, and a journey worth taking."
An Old Merchant's House tells you about the daily lives of the prosperous merchant class in mid-19th century New York. Based on contemporary sources including diaries and memoirs of the Tredwells' neighbors and what the Merchant's House itself reveals.
You'll read about:
Entertaining in the front parlor and at formal dinners
The etiquette of courtship and romance
Medical treatments, childbirth, and why so many died prematurely
Hygienic practices and use of cosmetics
Women's leisure activities
How the servants performed their many duties
And much more.