A Call to Arms!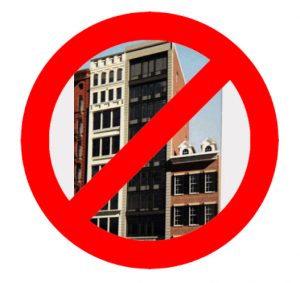 The Merchant's House is Fighting for Its Survival
In 2014, the Landmarks Preservation Commission approved a plan for construction of an eight-story hotel next to the 1832 Merchant's House, New York City's only family home preserved intact, inside and out. The Merchant's House is a federal, state, and city landmark and was the first building in Manhattan designated in 1965 under the new landmarks law. Today, it is one of only 117 buildings (and one of only six residences) that have both exterior and an interior landmark status. Remarkably, landmarks are not guaranteed adequate protection during adjacent building construction.
The developers have now applied to the City Planning Commission for
the special permits they need to build the planned eight-story hotel.
If granted, it would allow them to go ahead with the project. 
Our fragile 185-year-old landmark House will be damaged during construction — possibly irreparably. According to studies performed by structural engineers, if our building shifts a mere ¼ inch – as anticipated by the developers, and the maximum allowed by law – our original and irreplaceable 1832 ornamental plaster work, considered the finest extant in New York City and a national treasure, will suffer damage. "The integrity of the historic original plaster finishes is highly at risk." If the settlement is more than ¼ inch, as some engineers have predicted, our structural integrity could be compromised.
We will do everything we can to defeat the developers' application and have hired land-use, zoning, and preservation lawyer Michael Hiller (who, among other victories, blocked the plan to remove the Carnegie Steel book-stacks and millions of volumes of research materials from the NYPL and halted the MMA's plan to expand further into Central Park).
We have had to spend tens of thousands of dollars already on engineering consulting work and studies. Lawyers' fees and engineering expenses will continue to mount.
We can't protect the Merchant's House without your help!
Please consider a donation. Any amount will make a difference.
THANK YOU!
"The fact that the city would approve this without explicitly sufficient
safeguards of the Merchant's House's structural integrity is,
quite frankly, shocking."
Andrew Berman, Executive Director,
Greenwich Village Society for Historic Preservation,
The Villager, April 17, 2014
"In my estimation, the Merchant's House is without a doubt the most important historic house in this city,
and unfortunately, it's now probably the most endangered one."
– Michael Devonshire, Director of Conservation, Jan Hird Pokorny Associates, which has overseen
all restoration work on the House since 1990.  The Villager, April 17, 2014
"… New York City has plenty of boring eight-story hotels, but we only have one Merchant's House."
Simeon Bankoff, Executive Director, Historic Districts Council,  The Villager, April 17, 2014