A Call to Arms!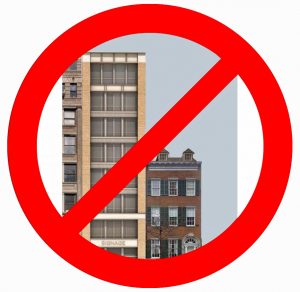 The Merchant's House is Fighting for Its Survival
See recent press and updates in the column to right.
In 2014, the Landmarks Preservation Commission approved a plan for construction of an eight-story hotel next door to the Merchant's House Museum, at 27 East 4th Street. The 1832 Merchant's House is a city, state, and federal landmark. In New York City, it is one of only 119 buildings (and one of only six residences) that is both an exterior and an interior landmark. Remarkably, landmark status does not guarantee protection from adjacent construction.

The City Planning Commission has now received the developer's application for a zoning change and the two special permits they need to begin construction.
It's a seven-month process and we need a QUADRUPLE NO!
Community Board 2 — NO!  On May 24, the full board – 41 members – voted unanimously to DENY the developer's application, calling the Merchant's House "an entirely unique, enormously treasured, and fragile and irreplaceable landmark and museum."
Manhattan Borough President — by June 25
City Planning Commission — by August 25
Final Decision: City Council — by September 25
We need to make sure the developer's application is DENIED every step of the way.
Why Say NO!
The proposed hotel is in violation of the City's Zoning Resolution. The developer's application for a zoning text amendment – "spot zoning" – in effect would rewrite the law for a series of waivers that benefit the developer alone.
It is grossly incompatible with the surrounding buildings in the NoHo Historic District. At eight stories, the proposed hotel towers over the 4 ½ story Merchant's House and blocks sunlight to the rear garden.
The museum's fragile, 186-year-old building would suffer catastrophic structural damage and likely collapse during construction if the Planning Commission approves the application and the developer proceeds with the project. 
The Merchant's House is New York City's only family home preserved intact, inside and out, from the 19th century. It is a vital – and irreplaceable – New York City cultural institution, open to the public since 1936.
If the Merchant's House – Manhattan's first designated landmark in 1965 – can't be protected, NO New York City landmark will be safe from out-of-control private development.
How You Can Help
WRITE

the City Planning Commission urging them to REJECT the developer's application.
Visit www.gvshp.org/mhm for an easy online form.

SIGN

our petition — Click here.

DONATE

to the MHM Legal Fund (see below).

SPREAD THE WORD!

Ask your friends and colleagues to help!

"If the Merchant's House can't be protected, no landmark is safe.
No historic district is safe. No natural resource is safe. No community or neighborhood is safe."
Michael Hiller, land use, zoning, and preservation lawyer

But it costs money. Lots of money. We have already had to spend tens of thousands of dollars on engineering consulting work and studies. Lawyers' fees and engineering expenses will continue to mount.
We can't save the Merchant's House without your help!
Please consider a donation. Any amount will make a difference.
#SaveTheMerchantsHouse    #DefeatTheDevelopers
#StopTheMadness   #DontMessWithGertrude

THANK YOU!
"In my estimation, the Merchant's House is without a doubt
the most important historic house in this city, and unfortunately,
it's now probably the most endangered one."
Michael Devonshire, Architectural preservationist and
Commissioner, Landmarks Preservation Commission
"… New York City has plenty of boring eight-story hotels, but we only have one Merchant's House."
Simeon Bankoff, Executive Director, Historic Districts Council