Our Ghosts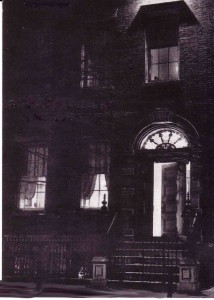 "Manhattan's Most Haunted House"
— The New York Times
Some say the Tredwells, who lived in this house for nearly 100 years, are still here.
Gertrude Tredwell, in particular, is thought to be watching over her family home. Born in an upstairs bedroom in 1840, the youngest of the Tredwells' eight children, Gertrude never married and lived her entire life here until she died, at the age of 93, in 1933. She was the last member of the family to occupy the house.
Since the 1930s, when the house opened to the public as a museum, strange and inexplicable happenings have been reported – sounds, sightings, smells – by staff, volunteers, visitors, neighbors, even passersby.
Don't miss our "Spirited" Events this October, including five nights of Candlelight Ghost Tours, Chant Macabre: Songs from the Crypt, and an 1865 Funeral Reenactment. Click here for the full 2015 calendar.
Candlelight Ghost Tours are offered monthly, January through June – and for several weeks leading up to Hallowe'en in October. In 2015, monthly tours are scheduled for January 16, February 20, March 13, April 17, May 15, and June 19. Visit our calendar of events for more information and to purchase tickets.
Private Candlelight Ghost Tours are offered by appointment for up to 20 guests for a flat fee of $400. Email programs@merchantshouse.org for more information.
Whether or not you are a believer, you'll enjoy reading our recently compiled booklet of ghost stories collected over the years by a member of the Museum's board. Visit the Museum's shop to purchase a copy of Some Say They Never Left: Spirited Tales and Ghostly Legends of the Merchant's House Museum, and decide for yourself. And if you visit the museum and have an "experience," please let one of the staff know so we can add your story to our growing roster of ghost tales.
Take Part in a Paranormal Investigation

"Manhattan's Most Haunted House??" (Says The New York Times) Find out for YOURSELF! The Winner and a Guest will participate in a real paranormal investigation of the Merchant's House Museum led by the Historic Paranormal Research team. Learn the theories behind hauntings, the use of technical equipment, and how to review data. Measure atmospheric conditions, conduct Electronic Voice Phenomena (EVP) sessions, capture still and video images, and more. Get to know members of the Historic Paranormal Research investigative team.

Raffle drawing will be held on Halloween Night, October 31, and the investigation will take place at a mutually convenient time in early 2016.

Raffle Tickets are $5, 3 for $10, 7 for $20