A Christmas Carol 2018
"Masterful storytelling"      "True to Dickens' voice"      "A tour de force"
"… a celebration of not only the holiday season, but of the value of everyday kindness."
.
6th Smash Year!
.
A Christmas Carol
at the
Merchant's House
Charles Dickens in New York, 1867
Performances November 27 through December 29.
See right sidebar for tickets and performance schedule.
In December 1867, Charles Dickens arrived in New York City for a month of sold-out performances of his beloved holiday classic, A Christmas Carol.
"… we shall never have any entertainments more charming, or more full of genuine, legitimate and elevating pleasure …"
The New York Times, 1867

"The Christmas Carol becomes doubly enchanting when one hears it performed by Dickens."
New York Herald, 1867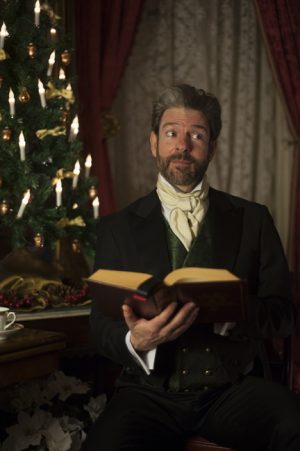 Join Mr. Dickens, portrayed by John Kevin Jones, as he tells his timeless Christmas tale in the elegant intact Greek Revival double parlor of the landmark 1832 Merchant's House Museum.
Surrounded by 19th century holiday decorations, flickering candles, and richly appointed period furnishings, audiences will be transported back 150 years in this captivating one-hour performance created from Dickens' own script.
Pre-show Toast to the holiday Season Join Mr. Dickens in our cozy mid-19th century kitchen before the performance, Thursdays, Fridays, Saturdays, starting December 6; and December 23 and 24 (Christmas Eve).
Guests will enjoy mulled wine, cider, and a tasting of traditional Dickensian Christmas fare, festive music — and conversation with Mr. Dickens himself! On December 23 and 24, Victorian carolers will add to the merriment.
A Christmas Carol at the Merchant's House, Charles Dickens in New York, 1867, is presented by Summoners Ensemble Theatre in association with the Merchant's House Museum and directed by Dr. Rhonda Dodd.