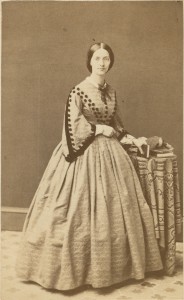 Julia Eliza Tredwell, Seabury and Eliza's sixth child, was born on May 16, 1833. She was two years old when her father purchased the house on East Fourth Street that would be Julia's home until her death in 1909, at the age of 76. A large number of books in the Tredwell Books Collection bear her name, including several on French language and grammar, natural history, poetry, and mathematics.
Julia is pictured at right, ca. 1862.
In an undated letter in the museum's archive, Julia wrote to her mother from Richfield Springs, in upstate New York, where she apparently went to recover from an illness. Richfield Springs became popular in the 1830s after Dr. Horace Manley purchased the site of the Great White Sulphur Springs, built a bath house, and brought 25 patients to take the water cure. It became increasingly popular as a summer resort.
"I have felt very much better the past week. They all say I have gained. I feel it, but by weight I only have gained two pounds. I took a bath and I felt stronger as soon as I came out … It is so lonesome to be separated that I feel as if I ought not to stay as long as I have, but I hope in so doing that I will quite gain my strength."
Recently, the Merchant's House collaborated with 3D modeling firm PaleoWest Archaeology to create an interactive 3D model of the two-piece spring and summer cotton dress, 1862-1865 (MHM 2002.0840), on display through April 29, one of the 39 dresses in the Tredwell Costume Collection. The model allows the viewer to look at the dress from all angles and zoom in on details. In the coming years, as each dress is displayed, we plan on creating similar models of dresses.
Merchant's House Museum Tredwell Dress
by PaleoWest Archaeology
on Sketchfab

The Tredwell Costume Collection comprises more than 400 articles of clothing, primarily women's dresses and their accompanying chemisettes, collars, undersleeves, and petticoats. The core of the collection is a remarkable 39 dresses documented to have been owned and worn by the women of the family. Many are outstanding examples of the 19th-century dressmaker's art, composed of fine and delicate fabrics and ornamentation.
Currently on display in Eliza Tredwell's bedroom: a one-piece spring and summer dress, 1859-1864, made of cream-colored sheer muslin with woven cream stripes and a printed black, tan, and red floral pattern. Printing with synthetic aniline dyes, which were discovered and initially produced in 1856, was a less costly way to replicate the look of more expensive, more intricately woven fabrics. This dress, because of its fragile condition, is rarely exhibited.
Of note, this dress is documented in the Index of American Design (IAD) at the National Gallery of Art (image to right). The IAD, a program of the New Deal Federal Art Project, was formed in 1935 to illustrate through watercolor renderings the history of American design in the applied and decorative arts.
The 1856 Alexander Hay Ritchie engraving, Washington and His Generals, and its walnut and gilded frame returned to the Merchant's House last week after six months of conservation. Paper Conservator Caroline Rieger cleaned the engraving, removed the acidic wood strainer, and mended old tears. Conservator Joseph Chiarello cleaned the frame, stabilized the corner joints, and restored the interior gilding. The engraving and frame looks (almost) as good as the day they were made and sold nearby on Broadway.
Washington's image in 19th-century American homes was ubiquitous and the cultural ideals it represented make it essential to the story of a merchant family such as the Tredwells. Washington was ever on the mind of the Nation's citizens with the celebration of his 100th birthday in 1832, construction on the Washington Monument in 1848, and efforts to restore his Viriginia home, Mount Vernon, in the 1850s. Many prints depicted Washington as a heroic leader, or as a domesticated family man, serving to make him inspirational to the average American. Seabury Tredwell was eight years old when Washington took the oath of office in New York City.
The conservation of the engraving and frame was made possible by The Conservation Treatment Grant Program of Greater Hudson Heritage Network with public funds from the New York State Council on the Arts, a state agency.