by Merchant's House Museum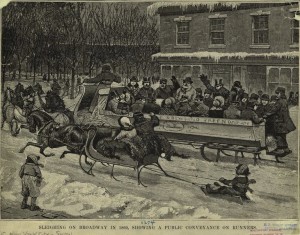 In mid-19th century New York, commuters relied on omnibuses — horse-drawn carriages that seated a dozen passengers, often many more, on wooden benches. (The driver stopped when passengers tugged on a strap attached to his ankle.) After a snow storm, carriages were replaced with sleighs.
In his diary, lawyer George Templeton Strong described commuter sleighs as "insane vehicles" that "carry each its hundred sufferers, of whom about half have to stand in the wet straw with their feet freezing and occasionally stamped on by their fellow travelers, their ears and noses tingling in the bitter wind, their hats always on the point of being blown off."
The sleighs and sleds of snowy old New York, Ephemeral New York.
by Merchant's House Museum
The five older Tredwell girls were students at Mrs. Okill's Academy, one of the most elite private female academies of the time.  Located at 8-10 Clinton Street (now 8th Street), Mrs. Okill's offered a "fashionable education" to young ladies. The school was housed in two connecting buildings each with a floor plan similar to that of the Merchant's House. Here boarding students from as far away as Ohio and Louisiana joined day students like the Tredwells in the study of academic subjects, including the French language, as well musical training, considered an essential accomplishment of refined young ladies.
Our current special exhibition, Lessons Learned: The Tredwell Daughters' Schoolbooks, is on display through Monday, September 29, and features rarely exhibited schoolbooks from the Museum's collection, some bearing the comments and signature of Mrs. Okill herself.
by Merchant's House Museum
Following a recent tour, a visitor asked us where the Tredwells shopped for their food and how they kept it from spoiling, especially during the summer months.
The Tredwells no doubt purchased some of their food at Tompkins Market, a public market located at Third Avenue and Sixth Street, just around the corner. Until the 1860s, it was customary in some families for the man of the house to do the marketing, and so it may have been Seabury Tredwell himself who assumed this responsibility. At the market, one could buy butcher's meat, poultry and game, produce, fresh fish, and according to a contemporary source, prepared food "cooked ready for parties, breakfasts, dinners or suppers, cold or warm." (In case anyone thinks 'take-out' is new.)
To store food, ice boxes were available in New York City from about the time the Tredwells moved into the house in 1835. Ice boxes were zinc or tin-lined wooden boxes with a compartment that housed a block of ice. Ice was cut from the Hudson River, stored in ice houses along the river, and delivered to the city by wagon. However, it was scarce — and expensive. By the 1850s, ice cutting had become very efficient, and ice was widely available. The Tredwells surely had an ice box, which was kept in the extension outside the kitchen, or in the cellar, as recommended in domestic manuals.
by Merchant's House Museum
Following the opening of the Erie Canal in 1825, business in the City boomed. It was the Golden Age of Trade. To escape the increasing noise, congestion, and commercialization of the seaport area, wealthy merchants and their families moved northward on the narrow island of Manhattan.
By the 1830s, "above Bleecker Street" was the place to live. Which is why on June 3, 1831, Joseph Brewster, a hatter and part-time real estate speculator, paid a cool $3,500 for the lot that would become the site of the Merchant's House. East 4th Street was part of the Bond Street area – an exclusive residential suburb – and prices were on the rise. Brewster had purchased the adjacent lot to the east just two months before for $3,000. By year's end, eight houses were under construction.
Brewster completed this house and its twin next door in 1832. He lived here for three years and, in November 1835, sold it to Seabury Tredwell for $18,000, making a tidy profit for himself.
You know the rest of the story. A home for 98 years and a museum for 81. And today struggling for its very survival, as it faces demolition, excavation, and construction of an eight story hotel next door. Click here for more information.
The Rise and Fall (and Rise) of an Elite Neighborhood
The Bond Street area where Seabury Tredwell moved his large family in 1835 had been attracting the city's wealthiest and most influential citizens since the 1820s. Broadway, a block and a half west of the Tredwells' new home, was still a residential street. And just two blocks to the south, Bond Street, lined with row houses of red brick and white marble, stretched for 1,000 uninterrupted feet between Bowery and Broadway.
Comments Off

on The Neighborhood