by Merchant's House Museum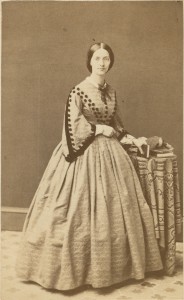 Julia Eliza Tredwell, Seabury and Eliza's sixth child, was born on May 16, 1833. She was two years old when her father purchased the house on East Fourth Street that would be Julia's home until her death in 1909, at the age of 76. A large number of books in the Tredwell Books Collection bear her name, including several on French language and grammar, natural history, poetry, and mathematics.
Julia is pictured at right, ca. 1862.
In an undated letter in the museum's archive, Julia wrote to her mother from Richfield Springs, in upstate New York, where she apparently went to recover from an illness. Richfield Springs became popular in the 1830s after Dr. Horace Manley purchased the site of the Great White Sulphur Springs, built a bath house, and brought 25 patients to take the water cure. It became increasingly popular as a summer resort.
"I have felt very much better the past week. They all say I have gained. I feel it, but by weight I only have gained two pounds. I took a bath and I felt stronger as soon as I came out … It is so lonesome to be separated that I feel as if I ought not to stay as long as I have, but I hope in so doing that I will quite gain my strength."