by Merchant's House Museum
The Merchant's House Museum now offers a brand new signature tour, "In the Footsteps of Bridget Murphy: The Life of an Irish Servant."
The only one of its kind in New York City, this unparalleled "back-stairs" tour tells the heroic story of the Irish women who worked in domestic service in 19th Century New York, overcoming homesickness, culture shock, and prejudice to cultivate a new home and a new identity on foreign soil – ultimately altering the face of New York City forever.
The Irish domestic servant in 19th century New York City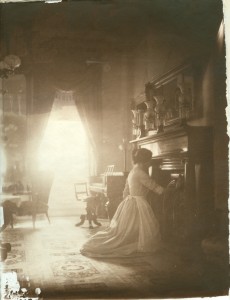 It is widely known that Irish women made up a large proportion of the servant class in 19th century New York. And the sheer amount of physical work they performed is taken as a given… though can we really imagine what wringing out hundreds of pounds of heavy, sopping wet laundry feels like? Yet even if we give them credit for their labor, we often fail to give them credit for their resiliency and the adroitness with which they adapted to a vastly different and complex new environment. 
Beyond the endless physical toil their positions demanded, these female domestic workers were also busy adapting to a new culture, decoding the vagaries of their employers, and parsing the subtle social intricacies of work in a big house. These girls, some only in their teens, soon learned to navigate this bewildering new world, becoming indispensable to running the household. Demand was so high that a more experienced servant had a surprising amount of power in negotiating her pay and other benefits; servants saved astonishing amounts of their salaries to send back home to Ireland.
Photo by Hal Hirshorn.
Into their home, into their world
"In the Footsteps of Bridget Murphy" takes guests up the narrow stars to the 4th floor servants' quarters, where the Tredwell family's four Irish servants – Bridget Murphy, Mary James, Mary Smith, and Ann Clark – lived and did some of their work. The entire hour-long tour takes place the original setting where these women lived and worked, bringing you into their home, their lives, and their world – in what is "arguably the oldest intact site of Irish habitation in New York City." (Time Out New York)
"In the Footsteps of Bridget Murphy: The Life of an Irish Servant" is available on select dates or as a private group tour; please visit our Group Programs Page for more information.