by Merchant's House Museum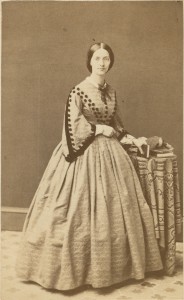 On Saturday, April 23rd 2016, from 12 to 4 p.m., the Merchant's House brings you "The Habits of Good Society" – Etiquette and Entertaining at Home, part of our ongoing Tredwells at Home, Living History series.
It's 1858 and 25-year-old Tredwell daughter Julia (pictured left) is receiving visitors in the front parlor. New York women in the 19th century maintained friendships and other social connections through the elaborate ritual of formal visiting — or "calling" — and in order to participate, everyone was expected to know the rules. When do you make a personal call, and when can you leave a calling card? How soon should you pay a "party call" after attending a ball or formal dinner? How do you know when a family is ready to receive visitors after mourning a death? What is a "sociable"? Come pay Julia a call and find out how she and other young women in 19th century New York navigate the ins and outs of fashionable society.
This event is included with the price or regular admission and is open to all ages. Julia will be in the parlor to meet visitors from 12 to 4 p.m. 19th century attire is encouraged.